The AttorneyFee team is the most affordable option to complete your Living Trust forms professionally without having to do it yourself. We have years of experience completing Revocable Living Trust Forms and other Estate Planning documents.
Our attorney designed living trust forms are reviewed and updated for every state every year.
What's the process?
Answer simple questions on our online questionnaire.
Within a couple of hours, our highly trained staff are going to call you to go over your forms for problems, omissions, and misinterpreted questions.
Then when it's ready to go, our software will generate a legally valid Living Trust, tailored to your wishes and the laws of your state.
Now, we send them to you to get signed, we tell you exactly where to sign so you can't miss it.
Finally, it's ready to be notarized and recorded.
For a flat rate of $399 we can assist you in completing an Estate Plan that may include the following documents:
Living Trust
Pour-Over Will
Financial Power of Attorney
Advance Healthcare Directives
Living Will
Pay a flat rate of $399 to complete your Revocable Living Trust forms. For more information visit our online Living Trust vs Will page.
Order Revocable Living Trust
A California living trust form is a legal document that controls the transfer of any property you have placed in the trust. When the grantor dies, the beneficiaries you've named in that document receive the trust property.
A California living trust allows you to do the same basic job as a will, with the added benefit of avoiding probate.
You can transfer all your property to your beneficiaries by living trust or, if appropriate, use a living trust to transfer only some assets, transferring the rest by other methods. Also, living trust forms normally are not made public at your death. Wills, on the other hand, become part of the public record during the probate process.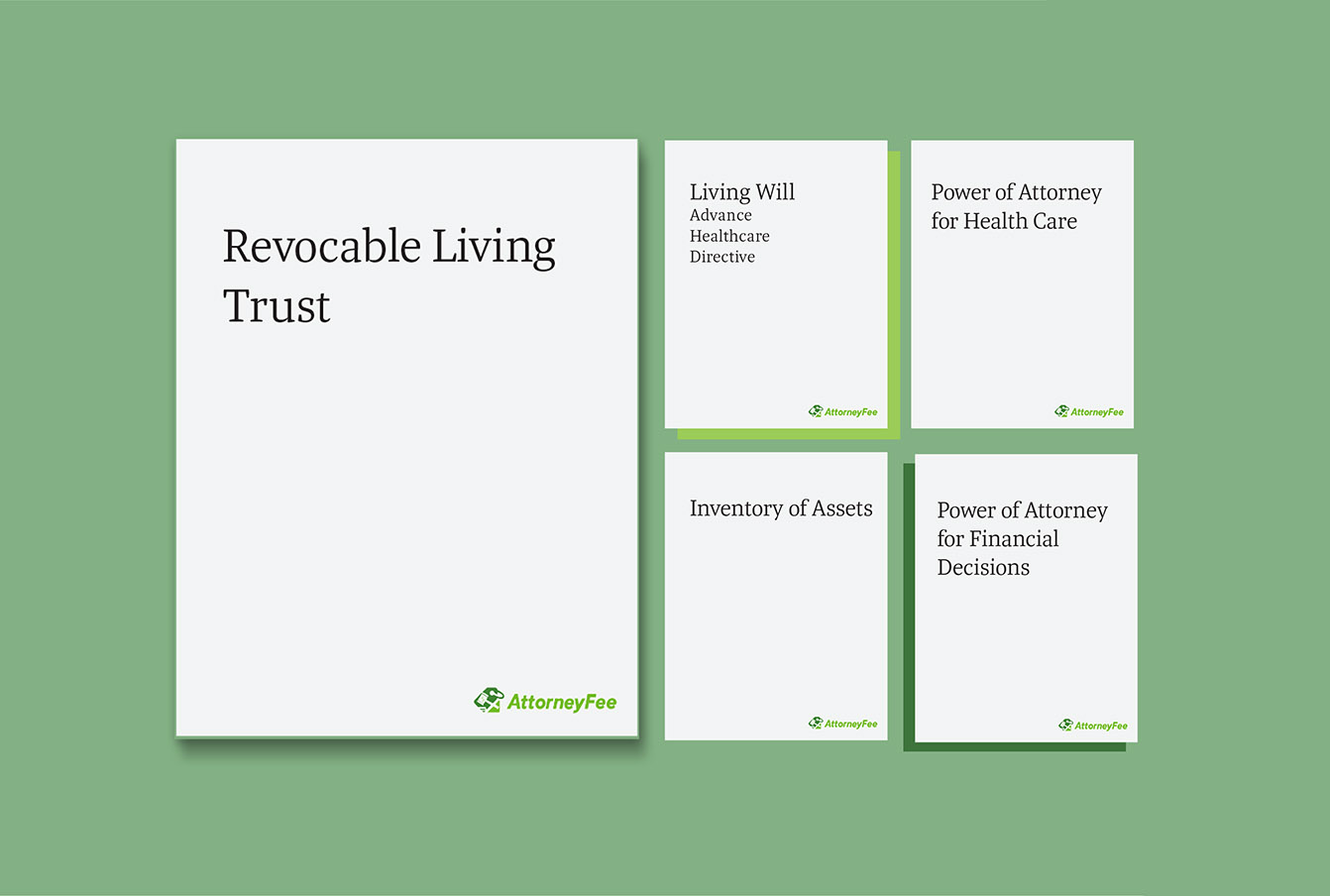 Do I need an attorney to make a Living Trust?
Attorneys are great, and have a very important role in society. In fact, we have our own. If you need legal advice, we recommend that you seek help from a license attorney.
However, many people have a simple Estate and only need a simple Living Trust, paying an attorney $3000 or more to complete the forms is too much. AttorneyFee has taken the complexity out of the process so that anybody can complete our attorney designed Living Trust Forms.
Estate Planning Attorneys are Just So Darn Expensive!
The law does not require that you use an Estate Planning attorney to complete a Living Trust or other estate planning documents such as a Will or Powers of Attorney.
In fact, you can make your Living Trust yourself, but many people choose to have help. It's important that you do your homework.
Should I complete a Living Trust Form online or hire a a lawyer?
There are a few websites out there that are lead generators for lawyers, so of course, if you ask a question like "Should I make a Living Trust online or hire a a lawyer?", they'll be biased. But don't be taken advantage of. Do your research. Many of our customers first went to an attorney and were quoted thousands of dollars for completing a simple Will.
Request assistance completing your Living Trust Forms
You pay nothing for this request! There's no charge and no obligation.
Living Trust Forms that covers your family 100%

or your money back Guaranteed!
Not satisfied with your Living Trust or other estate planning documents? Get a full refund within 30 days, no questions asked. That's how confident we are in our services. Give us a chance to help you create a Living Trust without risking anything, that's our promise to you.
Our team is available to answer your questions regarding your Living Trust forms or start a chat using the green round widget at the bottom of this screen.